COVID-19 Disaster Response and Disease Preparedness
If you suspect someone of contracting COVID-19, please report it to the Florida Department of Health. View the contact information for Orange, Osceola, and Seminole on Florida Department of Health.
HUD Exchange Webinar:
Infectious Disease Preparedness for Homeless Assistance Providers and Their Partners
How You Can Help
Items Needed to Assist Homeless Service Providers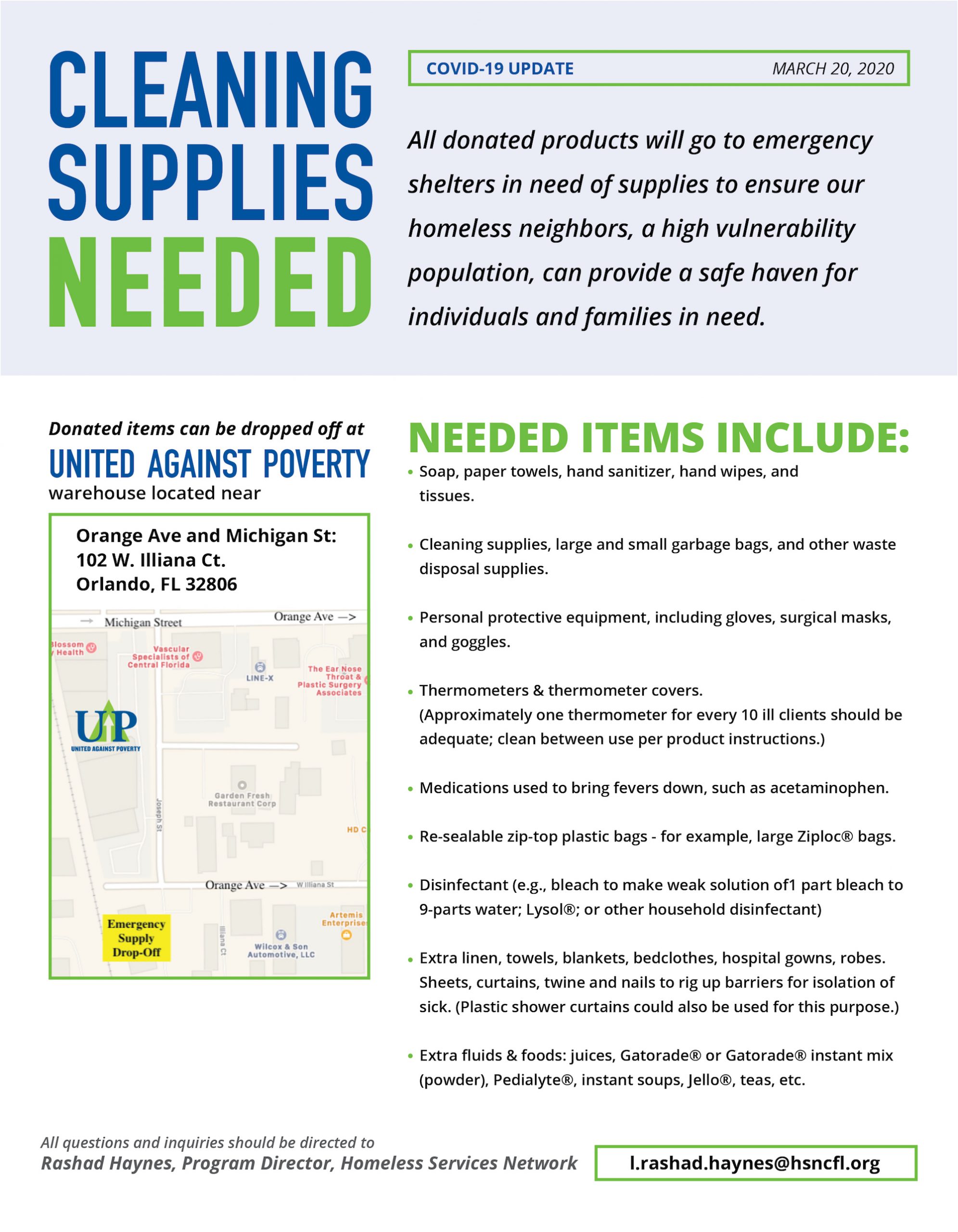 Donations are being collected for distribution to all homeless service providers at United Against Poverty at 150 W Michigan St, Orlando, FL 32806.
Florida Department of Health Contact Information For Providers to Report Diseases and Conditions
If you suspect that someone has contracted COVID-19, report it to the Florida Department of Health
Department of Health- Orange County
Address: 6101 Lake Ellenor Drive Orlando, FL 32809
Daytime Phone: 407-858-1420
After Hours Phone: 407-383-0185
Confidential Fax: 407-858-5517
Department of Health- Osceola County
Address: 1875 Fortune Road Kissimmee, FL 34744
Daytime Phone: 407-343-2155
After Hours Phone: 407-516-9001
Confidential Fax: 407-343-2145
Department of Health- Seminole County
Address:400 West Airport Blvd. Sanford, FL 32773-5496
Daytime Phone: 407-665-3243
After Hours Phone: 321-377-7473
Confidential Fax: 407-845-6055